FAMILY PHOTOGRAPHY 
AT HOME
Welcome, come on in and take a look around. I am hoping you've dropped by because you are looking to invest in some stunning family photography at home. Why not make yourself comfy…maybe even grab a drink?  Whether your looking for a photographer to take some at home family photographs because its something that is long overdue and your are desperate for some new family photos to sit proudly on your wall at home. Maybe, you really would love to celebrate a special occasion with some professional family portraits I am here to help. What's the saying? There's no time like the present? I really do believe that there is not a better way to celebrate with your beautiful family than to a photo shoot at home.  Not only will you never regret being more present in your family photo album but these images will be cherished and loved for decades to come. 
I'm grateful to work with so many families every year, any who book me up to a year in advance. I'm even more grateful to work with many families just like you that are truly invested in their family photography.
I don't know much about you yet but there's still time to get to know one another but for the time being you can find out a little bit about me here
Please take a look around if you have any questions about a Family or maternity photography session at home then please do drop me an email via my contact form      
WHY AT HOME FAMILY PHOTOGRAPHY ?
Why chose Family photography at home? For me, it's about recording all those moments, memories and meaningful connections that make your family who they are,  in a place full to the brim with your essence. We often forget that family are the people you love in places you feel the safest. Our family is an anchor, our main drive and the reason we work hard every day. We often we are so busy rushing around we forget to step back and take time to appreciate them. When children come along hayou can end up spending all of your days rushing about doing everything that your family needs but never taking time to soak them all in.  They are your why, and we can sometimes lose that in hard times.
As a family photographer I have spent many years perfecting, watching, and waiting. I know the photos that you need to have, images you don't even know you needed. I want to create a time capsule, to stir  up nostalgia, provide you with a legacy. Yes these images of for you to enjoy now, to walk past them in your home and smile.  But, its so much more than that.  In many years time these images will be something that you hand down to your children. I don't create family art to be stuck on a USB at the back of your drawer. I want to provide you with more worthy stunning family portraits you'll want to display on every wall in your home. 
I want to give you memories you didn't even know you need or wanted.
FAMILY PHOTOSHOOT IN SOUTHAMPTON
Why I think you need to have your family photos taken…
Why I am so passionate about photographing families? Because we all need to indulge in those we love. It's not selfish to want to pause the moment and have memories of these times.  A photography session at home not only gives you all the much-needed photographs to display on the walls of your home. It forces you to enjoy each others company. Just think, few hours away from screens, the monotony of, the washing, cooking, and cleaning.
See it like a little short holiday, one you come back from more in love your family , your metaphorical cups full to the brim with each other.  
That's why I am such an advocate for investing in your family photography . Not only does the session give you all the much-needed permission to stop, to enjoy, and to indulge in each other, It creates a tangible memory. Something you can hang on your walls at home to provoke conversation, to inspire little minds, and most importantly to create a legacy for your children. I am so passionate about providing your family with images that not only look beautiful but that transport your back in time to a moment and a memory.
Did you know that having a family photographs on the walls at home has a positive effect on your child's mental health? Yes, Really! Seeing a family photographs on the wall every day, where your children are surrounded by the people who love them the most, their parents, grandparents, and/or siblings. It's a reminder of belonging and a feeling of being safe. It's a daily reminder of who they are and where they belong. That, in turn, strengthens their self-esteem and confidence.
"Her ability to put your entire family at ease and talk motherhood with me like I'd known her a lifetime was invaluable" Amy, Portsmouth, Hampshire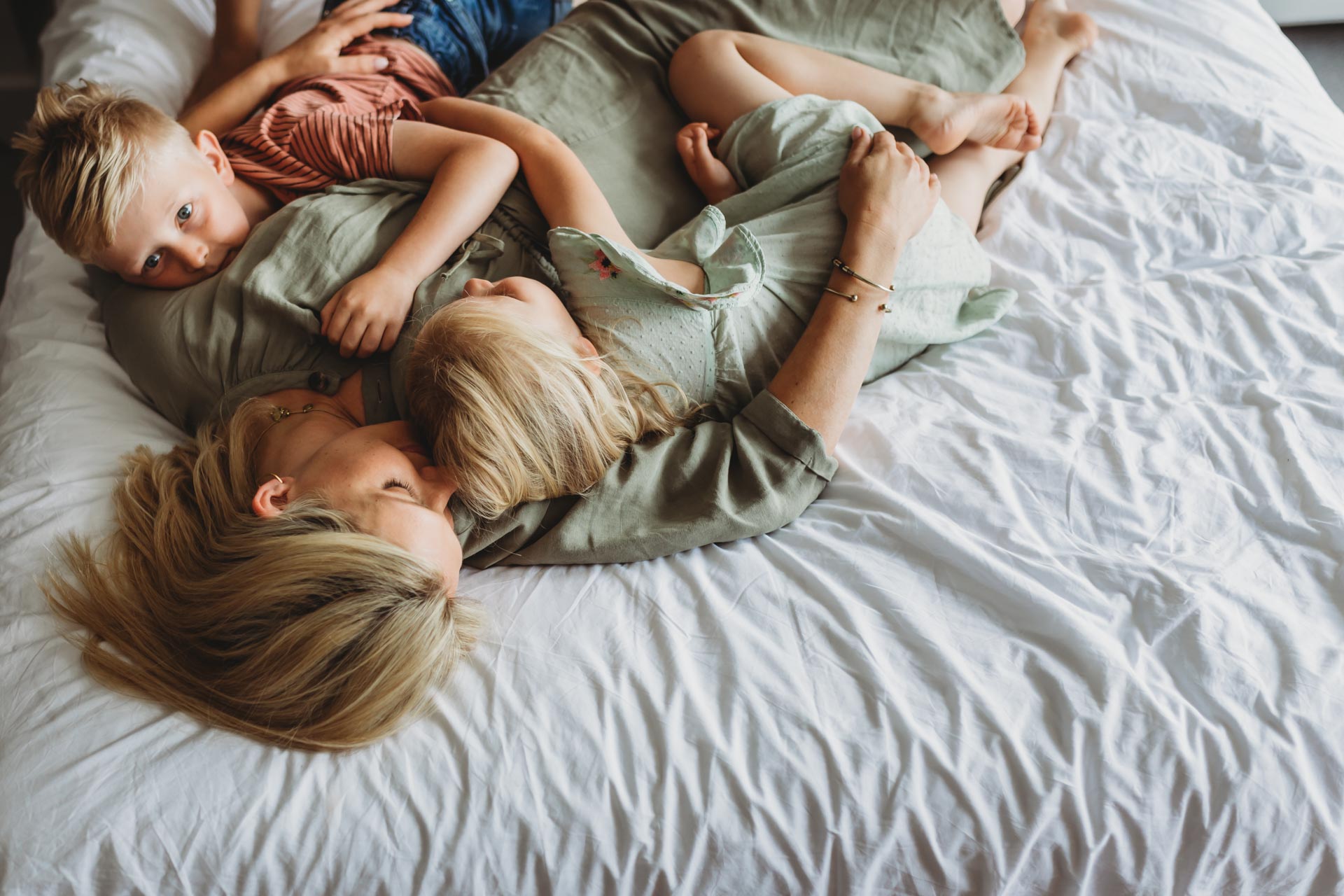 So what is it really like having
your family photos taken at
home? 
Family photography at home is as much about having being captured in your environment to help preserve these memories of their first homes, as it is about your children feeling at ease in their surroundings. Its them not wanting me to leave to go to my home because they are having too much fun. It's so important to me to get them on board from the start.  For them to enjoy our family photoshoot at home as much as i do. I want to create a relaxed environment where they can be themselves. It's just as important for me as taking the family photographs. If they aren't themselves then we will not be able to capture you authentically, and br able to deliver you images that speak to your heart.
Our time together is not about forced, cheesy smiles. Does anyone else have a child who's a "Chandler" wanna-be?…No? It can't just be me… HA Just me? Family photography is as much about capturing true emotion and connection as it is about the smiles and laugher. It could be the way you brush your child's hair from their face or the way they grasp your finger as they toddle to walk.. Maybe it's the way they embrace you, or how your hands envelop theirs, or even the deep belly laughs that they struggle to come up for air from. I want to see and capture all of that. These are your memories that i will work alongside you to photograph. 
I like it see this as me giving you time to "breathe them in" to soak up their scent, how they feel when they lean against you, when you struggle to find where you start and they end. It's so important to me that I am able to capture that and give you these all-important memories. Looking back through these photographs you should be able to be transported back to that moment and relive it over and over.
One day they will have out grown our laps, but we know they won't our grow our hearts. 
As candid as my photo may seem, don't be fooled. I don't expect you to know how to pose yourselves. It's impossible for you to know how to pose, so I will be there to give you some direction during the photoshoot based on the best light in your home. I will loosely direct you, help you get into flattering angles and then help you to relax into each other. Thats when the magic really happens. 
When you book me you don't just get a family  photographer. You'll get a stylist and therapist  to take care for all those worries  over what you're going to wear,.A children's entertainer,  lighting magician and last, but by no means least, your photo taker / chief editor.
As a lot of my clients book me many months in advance this can means my diary is is regularly full up. I recommend that we start making plans ahead of time.  If you have a spefici date in mind  It's even more essential that we get some dates in the diary many months before., 
What happens before our at home family photography
session? 
 All of my in-home family photography session, you will get access to my tailored pre-session questionnaire so I can get to know you long before I meet you. We'll also schedule a FaceTime/ Zoom or quick telephone chat too if that works for you. You'll receive my curated style guides together with links to my 'shop my style' Pinterest boards which are linked to many UK shops. Making it easier than ever to treat your before your family photography session.
Most of all, please understand that we'll be working together throughout this whole journey to your perfect family photos. I will make sure you are all fully prepared, looking your best, and most importantly relaxed so we can capture your unique story.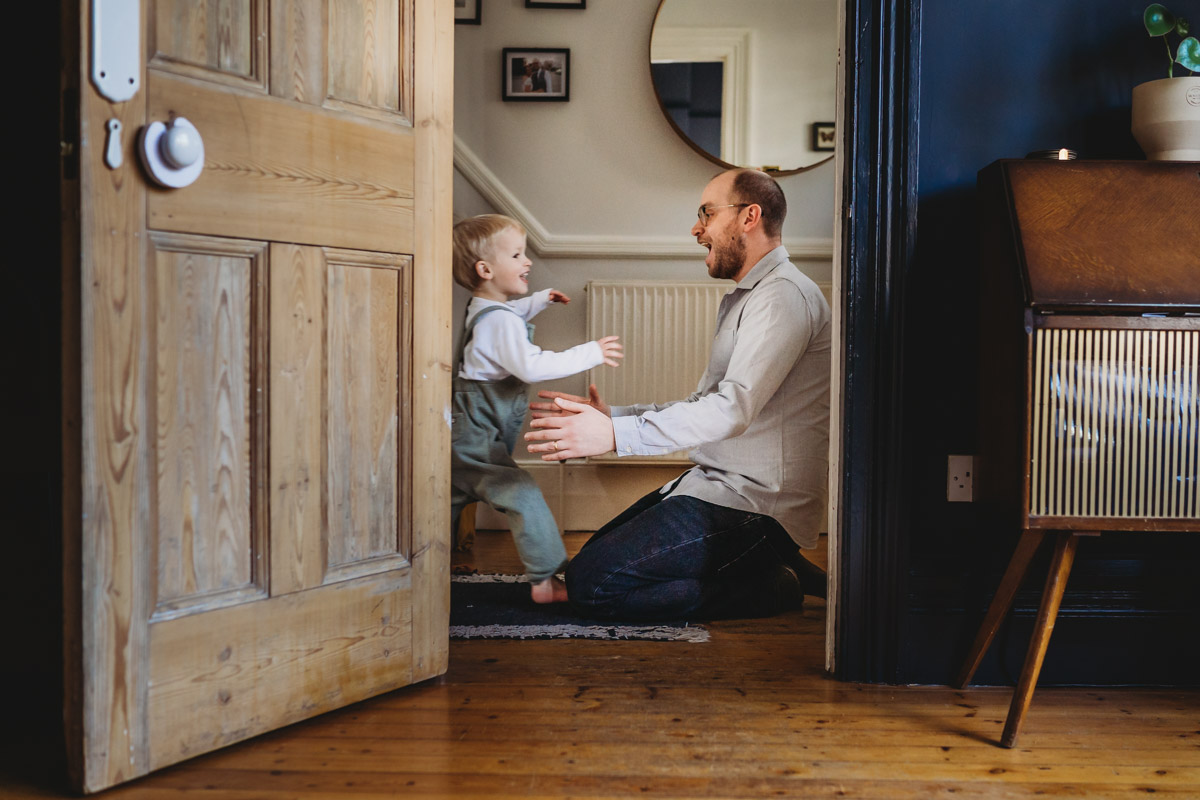 – a pre-session welcome preparation guide detailing how to prepare your family and your home. 
– questionnaire help me plan your session and capture your family **
– pre shoot styling assistance to help make sure you look and feel your best on the day 
– 2-3-hour photoshoot at home  
– option to add 1-2 min short film for £295 ( payable up front on booking ) 
– a online password protected gallery to view the whole session  
– 5 hand edited high-resolution digital photographs to download  
*photoshoots can be reserved with a £100 booking fee with the remaining £195 due of the week before your session. .  
** one set of parents and their children.
Travel over 30 miles of SO18 1GT will be subject to mileage of 50p per mile. London session will be charged at £80 
Photography Upgrades & 
Packages
Once your images from your in-home family  photoshoot have been hand edited you'll be sent a link to your private gallery of images from which you can chose your upgrade fromIf you wish to upgrade your session, my in home family photography packages start at £150. ​ 
Please click HERE to see more detailed information on prices and upgrade packages available. 
In additional  to my standard packages an a la carte menu of products are available via your online gallery . 
A 3-month payment plans are available for orders over £300 
- a pre-session welcome preparation guide detailing how to prepare your family  for you emotive family film
- questionnaire help me plan your session and storyboard your family film
- pre shoot styling assistance to help make sure you look and feel your best on the day.
-2- 3 hour relaxed filming session. 
-3-4 min short family film set to royalty free music.
- 10 hand edited high-resolution digital photographs to download taken during the film
Family Films can be reserved with a £100 booking fee with the remaining £595 due of the week before your session. 
Travel over 30 miles of SO18 1GT will be subject to mileage of 50p per mile. London session will be charged at £80
Sunsets, all year round? Really! Sunset family photos have increased in popularity so much in the last 5 years. Gone are the days of stuffy studios, pristine white backdrops and a cheesy, forced smiles. There is nothing about these family photos which speaks to my...